Kit list:
Our kits are made in resin, often with photo-etched brass, styrene and other pieces needed for assembly. We don´t miss any detail bigger than 1cm on real thing. We use pressure casting to get our casts sharp and crisp with all the details reproduced just perfectly. Top quality odourless resin used for our products - no bubbles or short-casts can be spoted in visible areas of our pieces. To avoid senseless sanding and resin dust, we use thin pins to connect cast to their feeders - these can be removed easily with modelling knife, and your sandpaper can be keep away without use here. All models are build and tested by modellers to make sure that they go together and fit well. These test build blogs can be found at various modelling websites here
click the image to get more info
1/35 US Army CarryAll Scraper 1/35 D7 tractor accessories
1/35 Resin Figures Range 1/35 German Wagons upgrade sets 1/35 German Gr covered wagon
1/35 US Army Reel Equipment 1/35 US Army rifles and guns
1/35 American M29 Weasel 1/35 US Army radio sets 1/35 American M29C Weasel
1/35 Russian Stalinetz tractors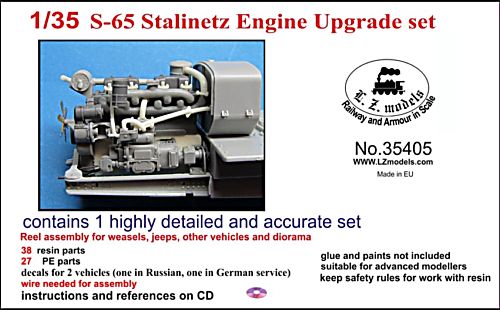 1/35 CMP Ford 15 and variants 1/35 German Bergepanzer Hetzer 1/35 German Hetzer late wheels
1/35 Russian 20t low sided wagon 1/35 60t Russian flatbed railcar 1/35 German SSyl Koln platform wagon
1/35 Russian 20t platform railcar 1/35 German G10 covered wagon 1/35 German SSys Plattformwagen
1/35 60t Russian low sided wagon 1/35 German Tank Wagon 1/35 German Ommr Flatbed
1/35 German water crane

1/35 Upgrade set for BR52 locomotiv 1/35 Upgrade set "2" for BR86 1/35 Upgrade set "3" for BR86 locomotive
1/35 Upgrade set "4" for BR86 1/35 Compressor Knorr for BR52 1/35 Upgrade set for BR52 locomotive 1/35 Upgrade set for BR86
.